Now that we are entering Fall.  I wanted to get Ava new rain boots!  Ava is really into watching hunting and fishing shows with her dad.  She went and sat in his deer stand with him for the first time last season.  However, she is very girly and loves all things pretty!
I found these adorable girls boots on Etsy at Gosling Boots
I knew she would love them!  She will have them for the Fall Pumpkin Patch season too!  These boots are absolutely adorable!
These boots are great for the rain or snow!   She wears a size 3 girls gym shoe in girls and I ordered her a size 5 women's boot and they just fit!  She says that they are very comfortable!
You can pick from all kinds or customize your own!  They offer various boot styles and colors, ribbon colors, monogram styles and colors as well!
These boots are regularly priced at $89.00!  For a limited time our readers get 10% off when you use the code: THECLUBMOM.
You can check out her site here: Gosling Boots
FOLLOW US them Facebook & Instagram @goslingboots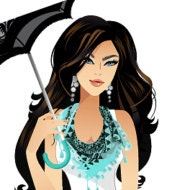 Sandra