Sesame Street Live is BACK in Cincy! We have NEVER Been!!!  We have always been fans of the show!  Who doesn't love ELMO and Abby Cadabby!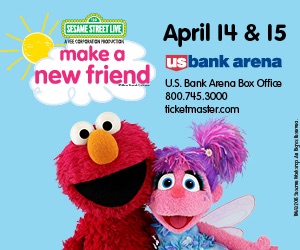 This year is  "Make a New Friend". No matter where you're from or where you've been, everyone is special – so join in! Elmo, Grover, Abby Cadabby, and their Sesame Street friends welcome Chamki, Grover's friend from India, to Sesame Street. Together, they explore the universal fun of friendship and celebrate cultural similarities, from singing and dancing, to sharing cookies! Join the fun and make a memory with your friends and family!
Tickets are on sale now for their two performances here in Cincy: April 14th and 15th at U.S. Bank Arena.
Go to Ticket Master website for tickets and additional information.
Would you like to enter our giveaway for a chance to win a Family 4 Pack of tickets to either show time?
Please comment below your favorite Character!  Winner will be chosen at random on Friday, April 10th!
Good Luck!!!